CMS host Trade Counter Open days with HellermannTyton
Date: 23/07/2014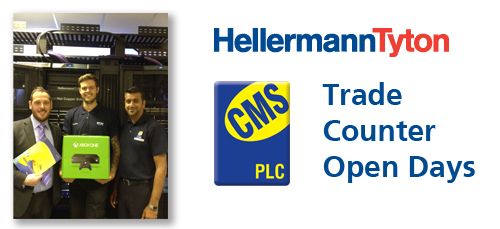 Between 1st and 4th July, CMS plc joined forces with HellermannTyton to host a week of Open Days across each of its four branches.
The week was open to both current and prospective HellermannTyton customers, with the aim of promoting HellermannTyton and its new range of products. Representatives were also on hand to offer advice and give product demonstrations.
HellermannTyton exclusively gave away 2 for 1 vouchers for their highly regarded Category 6 and 5e training courses. The vouchers are valid for a year and were well received by each of the attendees.
Across the week attendees were invited to take part in an XBOX One interactive driving game. In doing so, they put themselves in the running to win their very own console. This went down extremely well, with attendees becoming quite competitive. The overall winner of the XBOX One was Lee Waite an engineer from Eton Associates who attended the London Open Day. He completed the XBOX driving game in an impressive 1.09 minutes.
Craig Reynolds from HellermannTyton explained "The trade counter open days with CMS are a great way to get in front of the customer and showcase our products. We're looking to build on the success of these open days and plan to make them a regular event."