Pre-terminated Short Body RapidNet
Introduction
The 'Short Body' RapidNet cassette has been designed to be used with the angled RapidNet panel. The angled RapidNet panel offers a high density solution as it removes the need for horizontal patch cord management, increasing capacity within the rack or frame by up to 50% when compared to traditional patch management methods.
The angled panel offers additional benefits including helping to reduce the bend radius for both front patch cords and rear permanent link cables.
The new 'Short Body' RapidNet cassette is available in Category 6A, Category 6 and Category 5e, providing 6 RJ45 ports per cassette or 24 ports in 1U of rack space.
The ports are available in a choice of 5* colours as standard which can help define network features such as routes, services, hierarchies or security levels. The colours can be used to define connections within a shared space such as in a co-location data centre.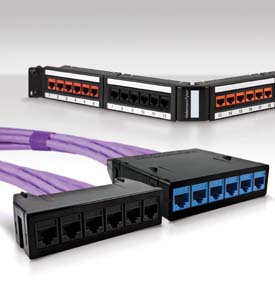 Key Features
Designed for the Angled RapidNet Panel
Category 6A UTP - 10G Performance
World leading pre-terminated system
Reduces installation time by up to 85%
5* coloured jack option for network segregation
Pre-tested with test results supplied
Second end options available
*HellermannTyton can offer a further 7 colour options depending on your requirements. Please talk to our sales team for further information.
Click the button below to view Pre-terminated Short Body RapidNet products View products
Product Information
For more information regarding this product and ordering information please refer to the pdf flyer.

Short Body RapidNet PDF Download