Category 6A UTP System
Introduction
The New Category 6A UTP solution from HellermannTyton provides a full end to end system.
At the centre of the HellermannTyton Category 6A UTP solution is the GST jack. A compact high performance connector which, when combined with HellermannTyton UTP Category 6A cables and patch cords, delivers superior Category 6A performance. The solution is completed by a comprehensive range of modular flat and angled panels and a full set of plastic mounting hardware.
Category 6A (Class EA) supports application protocols demanding higher bandwidth than can be supported with existing Category 6 (Class E) or Category 5e (Class D) systems. It has specifically been designed to support 10 Gigabit Ethernet (10GBase-T).
The GST jack has standard keystone mounting dimensions and therefore can be loaded into any standard faceplate, this means that the jack can be used in faceplates suited to local requirements.
The 12 colour options available enable identification and demarcation of different services such as voice, data, CCTV, etc. They can also be used to define different network paths, access paths or levels within the network (eg: in government or military installations), in accordance with TIA 606A.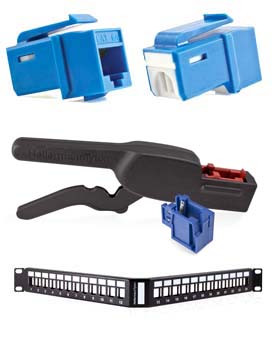 System Overview
The Category 6A UTP solution from HellermannTyton comprising of:
GST Category 6A UTP jack
Single action termination tool
Full range of modular patch panels
Category 6A UTP cable
Category 6A UTP patch leads
Plastic mounting hardware
Product Information
For more information regarding products and ordering information please refer to the brochure.

Download Category 6A UTP Systems Brochure PDF

Visio Stencil Download