RapidNet Distribution Chassis
Introduction
HellermannTyton's 4U Distribution Chassis is designed for use with the industry leading RapidNet pre-terminated system where high density patching is required together with class leading patch cord management.
The Chassis enables patch cords to be hidden from view and, with its high quality design and finish, enhances space, a range of different density requirements is catered for, no matter its location. The chassis can also accommodate 96 UTP copper ports.
The RapidNet Distribution Chassis has applications in the Core, Horizontal, Equipment and Intermediate zones.
Features and Benefits
Fits into standard 19" racks and cabinets
4U of vertical space can accommodate up to 16 RapidNet cassettes
Can accommodate up to 2,304 fibres per chassis or 96 copper ports
High quality look and finish enhances the presentation of the patching area
Hinged front and rear doors offer protection for cable to both the front (patching) and rear (backbone/trunk) of the panel
Class leading port labelling and identification both front and rear
Front cable management supports patch cords and helps manage bend radii, reducing the possibility of macro-bending
Rear cable management for cables from 3 to 20mm and anchoring points to provide strain relief for cables entering the chassis
Adjustable mounting ears allow forward or backward movement to suit the mounting post position within the rack or cabinet
Removable doors to make initial patch cord and cable installation easier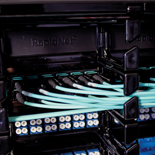 High density fibre with RapidNet MTP VHD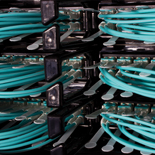 Tabbed connectors for easy installation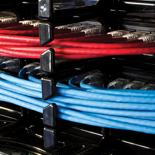 Front cable management
Product Information
For more information regarding this product and ordering information please refer to the flyer.