Fibre Wall Outlet with Pre-Terminated Internal Connecting Cable
Introduction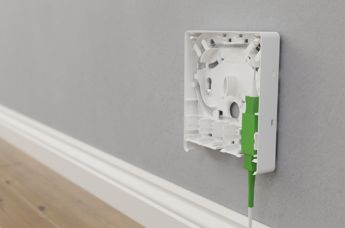 The Pre-Terminated Fibre Wall Outlet (FWO) solution provides a fibre optic cable connection point within the end user home which is a connectorised to bare end solution which allows all splicing of fibre cable to be performed at the Floor Distribution or Building Entry Point.
The Pre-Terminated FWO uses a 2 fibre G657.A1 cable and can accommodate a maximum of 2 SC SX or LC DX adaptors. The pre-terminated adaptor is placed in to the wall outlet and the cable is routed out of the rear exit point. The pre-terminated cable is available in lengths from 5m to 25m in 5m steps and from 30m to 100m in 10m steps.
Fibre management features ensure a minimum bend radius of 25mm is maintained as the bare fibre is routed through the outlet and press fit strain relief features secure the incoming cable whilst cable tie anchor points are provided for additional strain relief.
Features and Benefits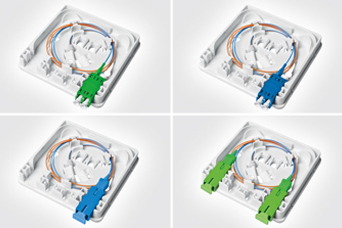 Maximum capacity: 2 SC Simplex or LC Duplex adaptors
Pre-terminated internal connection cable 5m - 100m
Install directly on the wall or onto a flush-mount back box
Cable entry at the base or through the rear of the unit
Recessed base for use with adhesive
Accommodates up to 2 splice protectors (up to 45mm)
Quality surface finish
Tamper-proof latches
Positive fibre management to ensure a 25mm minimum bend radius
View in 3D
Fibre Wall Outlet
Download and links
Download brochures and data sheets