Global Angled Panel
Introduction
HellermannTyton's Global Angled Panels are available in both Category 6 and Category 5e in 1U and 2U rack space options.
The use of angled panels removes the need for horizontal patch cord management bars within patching areas, thereby increasing capacity by up to 50%. The angle of the panel directs the patch leads directly into the vertical cable management area of the rack or frame. Angled panels also help to minimise the bend radius for both front patch cords and rear permanent link cables.
Primarily designed as a data centre solution, the Global angled panel is available with rear cable management bars to ensure terminations and cable are protected and secure.
Other accessories include 2 types of cover designed to maintain consistent airflow within a cabinet or rack by closing off any gaps or holes. This is particularly important where active equipment requires cooling.
Also available is a 1U and 2U angled panel blanks which can be used to fill gaps in the rack or provide the end user with future scalability, allowing for additional panels to be added at a later date.
Features and Benefits
Available in 1U 24 ports or 2U 48 ports
568A or 568B wiring options
Tested to exceed all ISO/IEC 11801 and ANSI/TIA/EIA 568-C.2 Category 6 or 5e performance standards.
Optional rear cable management
Two labelling fields with magnifying lenses allow for clear identification of all ports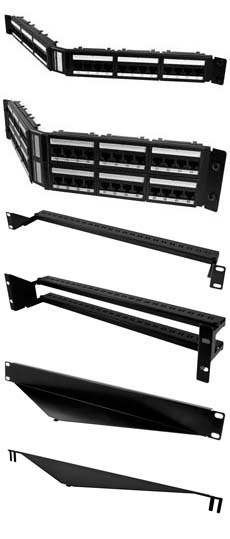 Click the button below to view all the Global Angled Panel products View products
Product Information
For more information regarding this product and ordering information please refer to the flyer.
Download Global Angled Panel Flyer PDF