'L' Series Oval Cablelok
Introduction
With an installation time of approximately 3-4 minutes, the oval Cablelok provides a 100% seal and is significantly quicker than using a heat-shrink sealing method.
The sealing gland has a patented tooth design that allows installation into the port in either direction. This eliminates the risk of an installer fitting the gland in the wrong direction and also ensures maximum cable sealing and axial cable retention in the smaller tapered end of the closure port.
Features and Benefits
Excellent sealing properties to 6m head of water
Rapid and consistent installation with few specialist tools required when compared to heat-shrink sealing
Ideal for use in hazardous areas as no heat is required for installation
Supplied with lubricant impregnated wipes to assist installation
Each Oval Cablelok kit is supplied with a ball-ended 4mm hex wrench tool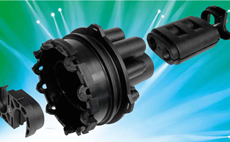 Click the button below to view all the LM Oval Cablelok products View products
Product Information
For more information regarding this product and ordering information please refer to the flyer.
Installation Video
To view installation video, please click 'play' below.