2 Post Patching Frame
The 2 post patching frame and vertical management solution from HellermannTyton provides high quality cable management and equipment access. The open frame design and large capacity cable management makes this ideal for installation in telecommunications rooms and high capacity patching areas within data centres.
The central frame is a 2 post 19 inch wide 45U high floor standing with its wide foot plate ensuring good stability once installed. The vertical cable management is also 45U and available in two widths (300mm and 150mm) to suit the capacity and positioning of the frames. The front half is supplied with a removable dual hinge front door and finger bar to manage patch leads for all types of copper and fibre cabling.
The rear section of the vertical cable management is designed for backbone/trunk cabling and is fitted with three hinged retainers offering further cable management. The central divider has multiple pass through/access points and retaining points for managing and securing the cables. 80mm diameter fibre management spools are also available to aid the routing and storage of large volumes of fibre cables.
The patching frame accommodates the full range of patch panels from HellermannTyton including angled panels, shielded panels, loaded panels, and Pre-terminated RapidNet panels including the Distribution Chassis.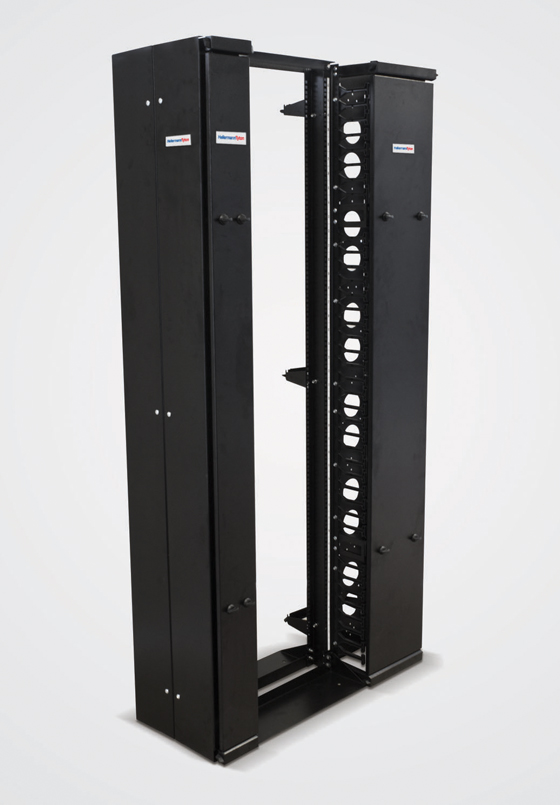 2 post patching frame shown with 150mm and 300mm vertical cable management and end panel.
Features and Benefits
2 post 19 Inch 45U Patching Frame
Wide foot plate for added stability
LightGuide2 ready - ideal if designed as an ODF application
Vertical cable management available in 300mm and 150mm width options
Multiple pass through and cable fixing points
Detachable, dual hinged doors cover patching area
Separate end panel available for finishing of end of row lines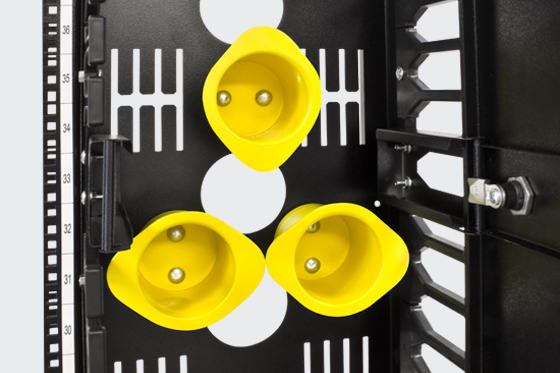 Spool mounting option for improved fibre management
Product Information
For more information regarding these products please contact the sales team.

2 Post Patching Frame Flyer PDF Download (PDF, 0.88MB)