Zone Cabling Solutions
Introduction
Complete Network Connectivity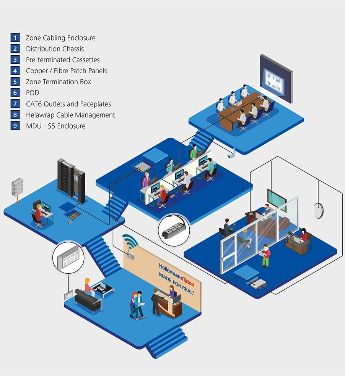 HellermannTyton manufacture a range of quality connectivity products for applications in every area of your network infrastructure.
From building entry point, to the comms room all the way to the desk, HellermannTyton has a solution for all of your zone cabling and networking needs.
Application Example: Intelligent Buildings
The most obvious and typical application for a Zone Cabling network design would be for an intelligent or connected building.
By Intelligent we are simply referring to a building that utilises a building management system to monitor and control multiple building services such as access control, fire safety systems, HVAC, lighting, security / CCTV. We have entered an era where more and more devices require a connection to the buildings data network using an RJ45 interface.
Any building owner looking to gain greater return on investment from their network infrastructure should consider a zone cabling topology.
Featured Zone Cabling Products
Downloads and Links
To download the HellermannTyton product brochures, please follow the link below.