Product Withdrawal Notice
Date: 17/08/2021


Product Withdrawal Notice
Cat6 Panel Discontinuation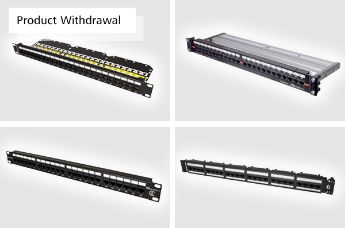 HellermannTyton Connectivity will be withdrawing the legacy range of CATEGORY 6 patch panels. This includes all panel varieties under the following brands; Gigaband, Global, Ecoband and Universal. This withdrawal will also include accessories relative to these panels such as rear manager bars.
Reason for withdrawal:
As part of the LAN product rationalisation program, HellermannTyton Connectivity will be releasing two new CAT6 UTP patch panels under the HTC series banner.
Withdrawal Information:
All system / product warranties for legacy products will be maintained. In the unlikely event a legacy product requires replacement, it will be replaced with the new HTC Series product.
Time Schedule:
The notice period starts immediately (16/08/2021)
Full discontinuation will come into effect on October 1st 2021
Therefore, orders for any CAT6 panels and associated accessories will continue to be accepted up until Thursday 30th September.
Orders received for CAT6 panels and associated accessories after Thursday 30th September will not be accepted. You will be advised to purchase the new HTC Series product.
Once all orders are complete production will cease and products will become obsolete.
For authorised channel distributors, this schedule allows you to place any stocking orders now and receive in four weeks as per your distribution agreement.
Downloads and Links
To download the Customer Product Withdrawal Notice, please follow the link below.