Connecting Fibre Networks Globally
Introduction
End to End Fibre Network Solutions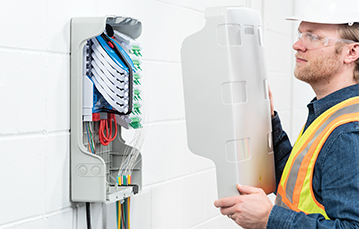 HellermannTyton provides a complete end to end range of Fibre to the X (FTTX) solutions, delivering flexible fibre connectivity across every stage of the last mile network.
The comprehensive range have all been designed to drive quality and high performance connectivity in both residential and commercial applications:
street cabinets,
fibre splice closures,
MDU enclosures,
customer connection points
and wall outlets
Products
Fibre Street Cabinets
Flexible Fibre Management System
48 Port Point of Connection (expandable to 96)
Duct support bracket for 98 drops
LC Simplex (UPC/APC) presentation
Positive fibre management throughout
Support for 250μm and 900μm fibre routing and management
Modular construction allows for build and grow network
Quick and easy installation of additional trays/drop patch modules
Fibre storage basket for loop through applications
Multi-Port Fibre Splice Closures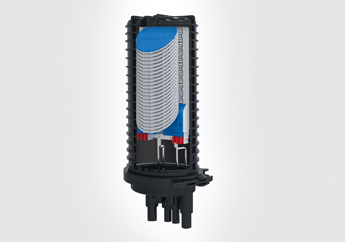 Up to 59 Fibre Ports
58 round ports and 1 oval port
Positive fibre management to ensure consistent 30mm minimum fibre bend radii throughout
Fibre storage basket for loop through applications
Bi-directional fibre routing
Accommodates SC, SC-B and SE trays
Maximum 12 splices per tray
Splitter accommodation
Cablelok compatible for all port sizes
Quick release cover
Optional pressure release valve
MDU Fibre Enclosures - MDU - S5, S4, S3. S2, S1 and S1 XS
The range of MDU enclosures from HellermannTyton provide high fibre capacity and flexibility within the multi dwelling unit (MDU) .
The range has been designed in a variety of sizes to service the varying sizes of apartment blocks or office buildings:
AFN Aerial Fibre Node
32 or 24 Drop Aerial Node
8 LC/APC Quad Adaptors
Maximum of 4 x 1:8 Bare End to LC/APC PLC Splitters (P2MP applications)
4 Inbound/24 Outbound ports
Separation of inbound fibre from connectorised drop cables
Positive fibre management to maintain consistent 30mm minimum bend
PLC splitter accommodation (60mm x 7mm x 4mm)
Maximum of 48 (double stacked) 3A splices IP55 and IK08 rating
Pole or building/facade mounted
Customer Connection Enclosure (CCE)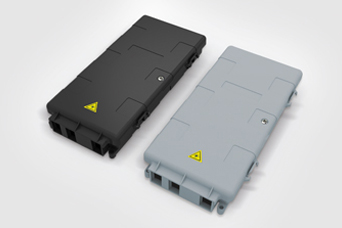 Up to 50m of Fibre Storage
6 inbound / outgoing ports
Through the wall capability
2 SC SX / LC DX customer connections
4 3A splice connections
Positive fibre management (30mm minimum bend radius)
IP54 rating
Loop through facility
Low Profile
Tamper-proof option available
Multi Customer Connection Enclosure (MCCE)
6 x LC and SC Adaptors and optional splice tray
12 Customer Connections
6 SC Simplex/LC Duplex connectors
Up to 30 fibre splices
Splitter accommodation
Positive fibre management (30mm minimum bend radius)
IP54 rating
Low Profile
Tamper-proof
CCP XL and XT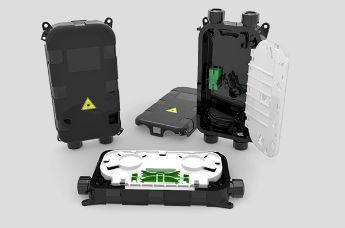 3 Port variations and optional splice tray
4 Port Configuration
Supports 2 x SC Simplex or LC Duplex Adaptors
Separate splice tray with 3A splice bridge
Maximum 13 x 3A splices
Separate inbound/outbound access points
Rear Entry Port
Tamperproof lock mount
IP68/IK08 Rated
Customer Connection Point (CCP)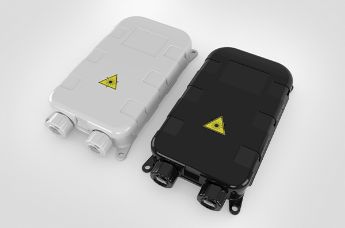 Quality Seal - IP68 Rated
2 inbound/outbound ports
Through the wall capability
Positive fibre management (30mm minimum bend radius, G652D or G657 single mode fibre)
2 SC SX / LC DX connections
Splice protector storage for 3A or ANT sleeves
IP68/IK08 Rated
Mechanical fixing for cable strength member
Fully detachable snap on lid
Fibre Wall Outlet (FWOA)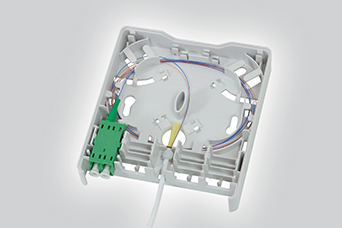 LC and SC Adaptors
4 SC Simplex or LC Duplex adaptors
Installed directly on the wall or onto a flush-mount back box
Cable entry at the base of the unit or through the rear
Recessed base for use with adhesive
Cable entry at the base, sides or through the rear
Up to 4 splice protectors (upto 45mm)
Tamper-proof latches
25mm minimum bend radius
Downloads and links
Downloads and links
To download the HellermannTyton product brochures available specific to the FTTX markets, please follow the links below: