25 Year System Warranty from HellermannTyton
HellermannTyton has been designing, manufacturing and supplying copper and fibre structured cabling solutions for over 25 years. As part of HellermannTyton Group PLC, a global business listed on the London Stock Exchange, the HellermannTyton Network Sciences 25 year system warranty is backed by a company with significant financial strength and longevity. With a history of serving industrial markets around the world for over 75 years, end user customers can have confidence in HellermannTyton's warranty throughout the lifetime of the installation.
The HellermannTyton Network Sciences 25 year system warranty is a direct relationship between the manufacturer and end user providing on-going confidence of copper and fibre link infrastructure performance. The warranty assures that the network will continue to operate, be compliant with cabling standards and support applications and protocols that have been designed and tested to operate with the appropriate cabling specification.
The HellermannTyton Network Sciences warranty is available for any network installation that uses exclusively HellermannTyton products throughout and has been installed by a HellermannTyton Network Sciences approved installer.
All Network Sciences approved installers are trained and certified at HellermannTyton's Northampton manufacturing facility to ensure they are familiar with HellermannTyton installation guidelines and best practice techniques. Click here to learn more about HellermannTyton's training courses.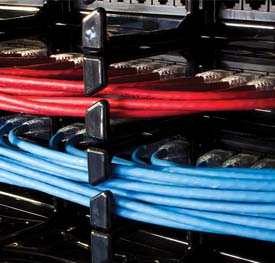 Features and Benefits
Covers both copper and fibre solutions – cable, connectivity and patch cords
Full channel warranty or permanent link option
Cost of replacement and reinstallation fully covered
Direct warranty relationship between the manufacturer and end user
Backed by a financially strong and stable global business
Network of approved installers trained directly by HellermannTyton
Manufacturer's technical and site support
Product Information
For more information regarding the 25 Year System Warranty please refer to the brochure and flyers below.

HellermannTyton 25 Year System Warranty - Brochure

HellermannTyton 25 Year System Warranty - Installer Information

HellermannTyton 25 Year System Warranty - Installer Application Form