Customer Connection Point with Cassette (CCPC)
Introduction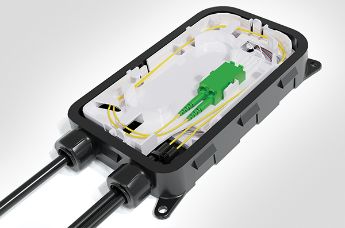 The Customer Connection Point with fibre splice tray and fibre management cassette (CCPC) is used as a Building Entry Point (BEP) to provide a fibre termination and network demarcation point external to the connected premise in a Fibre to the Home (FTTH) network. It also presents a network test point outside of the customer location.
The CCPC has high (IP68) sealing performance and a compact design and can therefore be housed in a small subterranean access chamber (eg: "Toby Box") whilst protecting the fibre connection point from water or dirt contamination. Incoming and outgoing cables are sealed at the base of the CCPC using a quick twist lock sealing mechanism. An optional vent gauze feature prevents internal moisture condensation.
The CCPC is fitted with a fibre splice tray which provides management for the incoming/outgoing cables and 2 x 3A splices. The fibre management cassette supports a single LC Duplex or SC Simplex adaptor and provides additional fibre management for up to 2 pigtails. The cassette and tray have been designed to ensure a 30mm minimum radius. Fibre retention fingers are used to keep the fibre in place and define the routing paths between levels.
The CCPC enclosure can be provided pre-loaded with adaptors and pigtails as required, the standard colour is black however, other options are available on request. A range of cable seals are available from a minimum of 3.0mm to 9.0mm.
Features and benefits
Maximum capacity: 1 x SC Simplex or LC Duplex Adaptor
Integral positive fibre management and fibre storage capacity
Separate inbound/outbound access points
Fully detachable snap on lid
IP68/IK08 Rated
Minimum fibre bend radius of 30mm throughout
Fibre Management Tray supports 2 x 3A sleeves
Fibre Management Cassette for mounting for 1 off SC SX or LC DX connections
Mechanical fixing for cable strength member