Customer Connection Enclosure (CCE)
Introduction
Up to 50m of Fibre Storage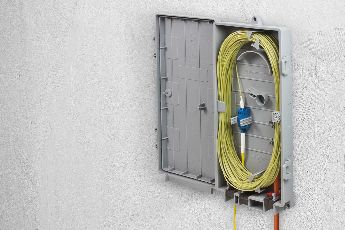 The Customer Connection Enclosure (CCE) has been designed as a Building Entry Point (BEP) to provide a fibre termination and network demarcation point external to the connected premise in a Fibre to the Home (FTTH) network. In addition to providing an external test point the enclosure will also store up to a maximum of 50m of 1.1mm cable.
The CCE has an IP54 sealing performance with 6 entry/exit ports at the bottom of the enclosure which is suitable for cables or ducts up to a maximum diameter of 7mm. A loop through facility allows for single fibre elements to be removed and spliced whilst the remaining fibres can be fed on to the next connection point. A single port in the rear of the closure allows for fibre to be passed through the wall into the customer premises.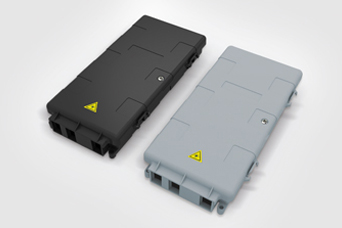 The CCE is the same width as a brick blow-out cover which will mask any unsightly bricks damaged by drilling through the wall from the inside of the house.
The CCE manages up to 2 SC simplex or LC duplex adaptors and has features to secure a maximum of 4 x 3A splices.
The lid is hinged allowing quick and clear access to the internal fibre for splicing and termination and the lid can be replaced if damaged. The CCE is supplied with a tamper-proof fitting, captive screw and nut, as standard.
The CCE can be supplied pre-loaded with fibre adaptors and pigtails as required. Supplied standard in Black or Grey (Available in a range of colours and a customer logo can be moulded into the enclosure. Minimum order quantities apply.).
Features and Benefits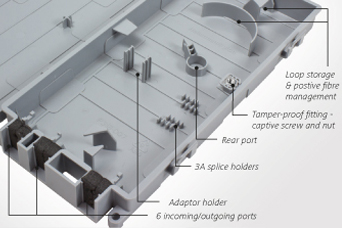 6 inbound / outgoing ports
Through the wall capability
2 SC SX / LC DX customer connections
4 3A splice connections
Positive fibre management (30mm minimum bend radius)
IP54 rating
Loop through facility
Low Profile
Tamper-proof fitting - captive screw and nut
View in 3D
Customer Connection Enclosure (CCE)
Downloads and links
Download brochures and data sheets