Flexibility with the HellermannTyton Fibre Facade Enclosure (FFE)
Flexibility
Flexibility with the Fibre Facade Enclosure (FFE)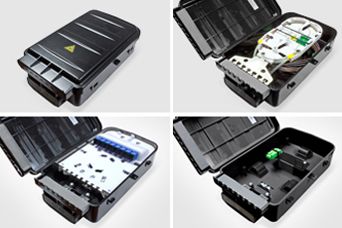 The Fibre Facade Enclosure provides a cost effective secure solution for installing pre-terminated drop cables in Fibre to the Home (FTTH) applications. It can be mounted aerially or at ground level to deliver up to 8 drop cable customer connections.
The Fibre Facade Enclosure is an IP55/IK09 rated enclosure manufactured from UV stabilised polymer. Features are included to provide for mounting on a pole or building facade. The enclosure can be supplied in 3 colours (black, white or brick red) and has provision for a moulded customer logo if required.
The Fibre Facade Enclosure can be used connectorised, splice only or storage only. Contact us to discuss your requirements. Send a message >
Products
Connectorised with LC or SC Adaptors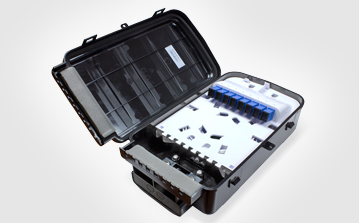 The enclosure has been designed to physically separate the feeder cable 250μm fibres, which will be spliced by a skilled technician at the initial install, from the pre-terminated connectorised drop cables which may be installed at a later date and are likely to be completed by a lower skilled installer.
The enclosure consists of 3 separate fibre management areas:
- Inbound Cable Management
The lower section of the enclosure has 2 dedicated entry ports with strain relief for incoming feeder cables which may be looped through. This area provides positive fibre management and loop storage for a maximum of 144 fibres.
- Fibre Splice Management Area
A dedicated splice management tray sits above the fibre storage area and has capacity for up to 12 x 3A heatshrink splices (24 if double stacked), with a maximum splice protector length of 60mm. The tray provides separate fibre management areas for 250µm fibres and 900µm pigtails whilst maintaining 30mm minimum bend radius throughout.
- Drop Cable Management
The drop cable management area consists of a removable upper fibre management tray which presents 8 SC simplex or LC simplex adapters for connection to industry standard pre-terminated drop cables and prevents access to the lower splicing area when in place. Fibre management is provided on the underside of the tray for 900µm pigtails allowing the spare cable to be maintained separately from the 250µm feeder cable fibres. Retaining features allow a PLC splitter to be mounted if required. The fibre management maintains a 30mm minimum bend radius throughout with a cross over facility to allow for alternative routing requirements. The SC or LC simplex adapters on the customer facing side of the tray are angled and spaced to allow for inspection prior to connection. 8 anchor guides are provided for securing the drop cables. Drop cable exit ports use a simple push fit seal to ensure performance in excess of IP55.
Connectorised with LC Connection

View in 3D
FFE Fibre Facade Enclosure
Download brochures and data sheets
Downloads and links
To download the HellermannTyton product brochures available specific to the FTTX markets, please follow the links below.
View datasheets (opens new window)