Integrated Routing - Top of Stack
Introducton
HellermannTyton have developed the Integrated Routing Top of Stack to allow additional fibre routing options (UFC double stack) and more efficient access to the splice trays.
The Top of Stack module fits to the top of the double stack closure (UFC), enabling the fibre elements to be passed from side to side or diagonally across the back planes (stacks).
This creates space away from the fibre optic storage area at the base of the management system removing any potential fibre congestion which could lead to micro bending and effect performance.
The module also includes a tray lifting strut, which is raised to increase the work space when accessing the splice trays in the stack. When the lifting strut is not in use it lowers into a recess within the Top of Stack module.
Features and Benefits
ABS plastic with radiused edges to prevent potential sharp points
Tray lifting strap and support strap for maximum available working area
Positive fibre management (30mm bend radii)
Up to 144 x 250μm fibre elements for high capacity
UFC closures Double stacked closures - storage for fibre loops which are not being terminated within the closure.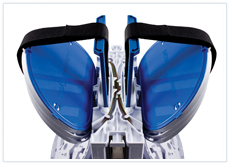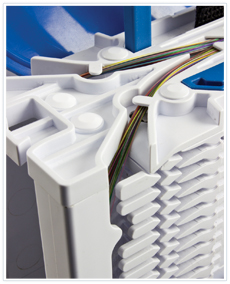 Product Information
For more information regarding product dimensions and ordering information please refer to the flyer.
Download Top of Stack PDF