Modular Zone Termination Box from HellermannTyton
Introduction
Modular Zone Termination Box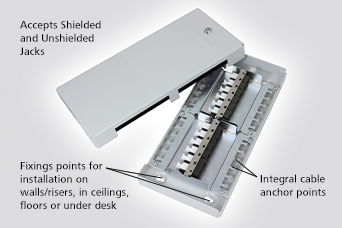 The Zone Termination Box (ZTB) from HellermannTyton Connectivity is a compact and robust internal consolidation point. The ZTB has been designed to work as part of a Zone Cabling topology which allows for more flexibility in regards to MAC's within a structured cabling network.
This modular version of the ZTB allows for the use of keystone jacks and fibre adaptors, making it easier to configure each box to your bespoke requirements giving even greater flexibility.
Users can choose to have the box loaded with CAT6 UTP keystone jacks in a variety of colours, CAT6A shielded jacks or LC duplex / SC simplex fibre adaptors.
Features and Benefits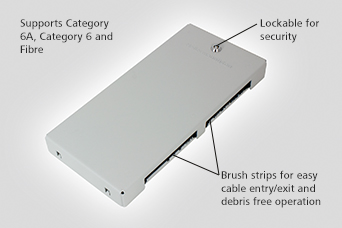 Supports Category 6A, Category 6 and Fibre
Uses HellermannTyton's Modular Connectivity
Supports PoE when using Cat6A/Cat6 Keystone Jacks
Accepts Shielded and Unshielded Jacks
Accepts up to 12 cable lines
1.5mm mild steel for added strength
Internal steel cross-member supports for increased impact resistance
Compact size allows for installation in restricted spaces
Removable lid for ease of termination/installation
Lockable for security
Fixing points to allow for installation on walls/risers, in ceilings, floors or under desk
Grey powder coated finish for humidity and temperature protection
Brush strips for easy cable entry/exit and debris free operation
Integral cable anchor points
Modular design allows user to mix and match desired connectivity i.e. 6x CAT6A & 6x LC Duplex OM4
Port identification
View in 3D
Modular Zone Termination Box
Video of features and benefits
Downloads and links
To download the HellermannTyton product brochures available specific to the Zone Termination Box, please follow the links below: