Pre-terminated 8 Fibre RapidNet Hyperscale solution for your data centre
Introduction

Demand for faster data rates, access times and higher performance continues to drive data centre designs. The latest designs incorporating leaf & spine and edge architectures are creating reduced latency, more flexibility and the ability to scale upgrades as and when required.
Green-field fibre deployments are able to take advantage of the eight fibre solutions, whereas legacy installations may require innovative migration strategies to maximise the utilisation of the physical infrastructure. HellermannTyton's range of transition cassettes offers the perfect resolution
The 8 Fibre RapidNet system delivers high performance across OM4 and OM5 infrastructure. The fibre solution will support high speed 10G through to 100G networks and beyond. High port densities can be achieved using RapidNet fibre, with MTP connectors providing up to 144 fibres per cassette or up to 576 fibres in 1U of rack space.
Products coming to the website soon.
Products
A selection of products from the new range:
RapidNet pre-terminated cassettes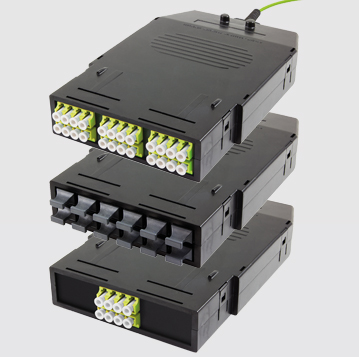 The HellermannTyton 8 Fibre range is offered in various configurations and options to suit typical deployment requirements of flexibility, performance and optical loss management. These include LC quad adaptors with rear MTP connection, MTP transition cassettes and MTP cassettes with connectors being configured as either 8 or 24 fibres per connector.
RapidNet MTP solutions are designed to meet the demands of the high performance computing by providing high performance, low loss links with reduced installation times, efficient use of space and flexible configurations to support differing layouts.
Cassette to Cassette
The cassette to cassette offers localised patching fields at both ends of the link. This configuration is beneficial when there isn't the immediate requirement to utilise all the ports.
Cassette to Fan Out
With the cassette providing local patching at one end, the fan out can be connected directly into the active equipment, reducing losses and saving cabinet space.
Transition Cassettes
Transition cassettes are used to convert from multi-fibre to single fibre (MTP to LC) or different fibre count MTP to MTP. In either case they use a standard cassette with a rear MTP connection, ideal for use in either re-configuring existing installed cables or when access and cable management may be limited.
Fibre fan out cables and patch leads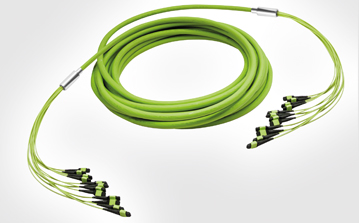 The fan out option removes localised patching at both ends, saving space in the cabinets and reducing optical losses in the link. These cables are offered in various configurations and are particularly suited to applications where the active equipment or hardware at each end is located either in the same cabinet or row.
There is a wide range of patch leads available, all suitable for the above connection methods and are supplied in various configurations and lengths to suit the optical polarity of the channel.