RapidNet Fibre Adapter Mounting Module
Introduction
Adopting the RapidNet concept, the adapter mounting module fits into the RapidNet panel allowing pre-terminated cables to be connected in both the front and rear of the module, making it an ideal solution in areas with limited space.
The module is supplied pre-loaded with adapters and enables ruggedised fibre fan outs to be presented in RapidNet panels. In turn this enables the use of the RapidNet fibre cassette to fan out or fan out to fan out looms in applications with limited access between rooms or halls or in containment and pathways.
When installed in a RapidNet panel the module presents the fibre as a patching field in the regular RapidNet way. It is recommended that the module is installed in the Distribution Chassis (RNA6UXX-PD4UCN-XX.XX), Rear Cable Management panel (RNA6UXX-PB1URS-XX.XX) or Out of Rack Chassis (RNA0RC1,2 or 3).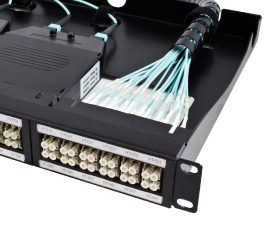 Features and Benefits
Offered with a choice of LC, Keyed LC, MTP, and SC adapters installed
Fits into any standard RapidNet panel
Supports up to 12 fibres with SC, 24 fibres with LC or 288 fibres with MTP in each module, giving a potential maximum capacity
Click the button below to view all the Fibre Adapter Mounting Module products View products
Product Information
For more information regarding this product and ordering information please refer to the flyer.