Aerial Fibre Node (AFN)
Introduction
Aerial Fibre Node (AFN)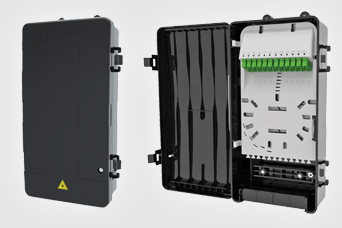 The Aerial Fibre Node (AFN) has been designed for deployment within the last mile of the FTTx network. This enclosure can be used within a P2P (Point to Point) or P2MP (Point to Multi Point) network with the addition of connectorised PLC splitters or pigtails and adaptors.
The AFN comes with an IP55 and IK09 rating allowing the enclosure to withstand any external environmental conditions it might be subjected to. The AFN cover is tamper proof to prevent any unwanted or malicious interference with the internal fibre connections.
The AFN is manufactured from UV stable black polycarbonate with a completely detachable lid which can also be snapped back in to position using the snap back hinges allowing unrestricted access to all fibre management areas.
The enclosure has 3 separate management areas for inbound cable, fibre splice management and drop cable (customer connection) management:
The inbound cable management area has a dedicated cable entry port which supports both cable end and mid-span applications with loop storage capacity for up to 4m of 144 core fibre cable and the entry port is sealed with a cable entry kit to maintain the IP55 rating.
The fibre splice management area has capacity for a maximum of 48 3A splices and maintains positive fibre management (30mm minimum bend radius) throughout. The tray has a crossover facility which allows for alternative routing requirements and a fibre storage capacity of 1.5m for 250µm fibre.
The drop cable management area presents 24 LC Simplex adaptors for connection to industry standard pre-terminated drop cables and a maximum of 6 PLC splitters (60mm x 7mm x 4mm) can be fitted on the inside of the management area.
Features and Benefits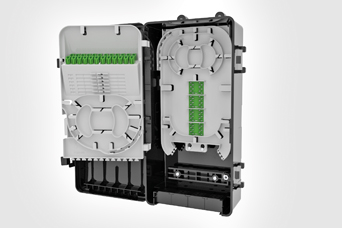 Maximum capacity 24 LC Simplex Adaptors
4 Inbound/24 Outbound ports
Separation of inbound fibre from connectorised drop cables
Positive fibre management to maintain consistent 30mm minimum bend
PLC splitter accommodation (60mm x 7mm x 4mm)
Maximum of 48 3A splices
IP55 and IK09 rating
Pole or building/facade mounted
Video of features and benefits
Downloads and links
Download brochures and data sheets
To download the HellermannTyton product brochures and datasheets available specific to the Aerial Fibre Node, please follow the links below: