Fibre Wall Outlet
Introduction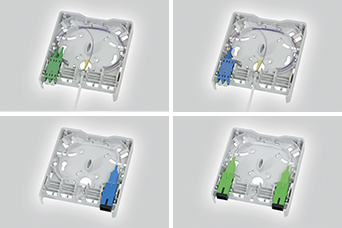 The Fibre Wall Outlet (FWO) provides a fibre optic cable connection point designed to provide the final connection to the router or active equipment.
The FWO is a small single socket size outlet which is manufactured from Polycarbonate + ABS V0 rated material. The outlet has cable entry positions at the base, rear and on each side. Designed with fibre management features which ensure a 30mm minimum bend radius and cable tie fixings at all entry ports to provide strain relief.
Tamper-proof latches on the side of the outlet secure the cover to the base and the overhang restricts the removal of any adaptors and connectors when the cover is in place.
Supplied with 4 output port covers which can be used to provide additional shielding of the adaptors prior to fitting the customer connection cable.
The base has adjustable keyholes to allow for ease of positioning and installation and each outlet is supplied with a standard fixing kit.
The outlet can be supplied either unloaded, with a pre-terminated connector to bare end connection cable or with adaptors and pigtails.
Features and Benefits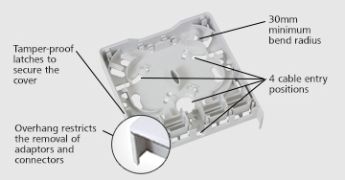 Available in 3 configurations
- Pre-terminated connector to bare end connection cable
- Adaptors and pigtails
- Unloaded
Maximum 8 LC connections (Pre-terminated solution only)
Maximum 4 3A/ANT splice positions
4 cable entry positions
30mm minimum bend radius
Integrated safety features – restricts removal of connectors/adaptors
V0 rated
Product Options
Pre-Terminated Solution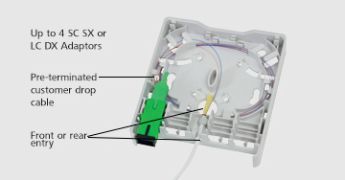 Features and Benefits
Maximum of 4 SC or 8 LC connections
Maximum Adaptor Capacity: 4 SC Simplex / 4 LC Duplex
Cable entry at the base or rear
Pre-terminated cable lengths
5m – 25m in 5m steps
30m – 100m in 10m steps
Connection cable G657.A1
Supplied with cable connection(s) fitted in to the adaptor(s)
Adaptors and Pigtails Configurations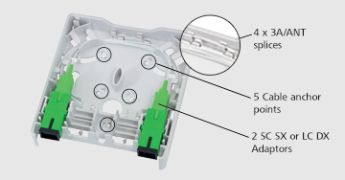 Features and Benefits
Maximum of 2 SC or 4 LC connections
Maximum 4 3A/ANT splices
Fibre storage capacity
4m x 250μm
4m x 900μm
View in 3D
Fibre Wall Outlet
Download and links
Download brochures and data sheets
To download the HellermannTyton product brochures available specific to the Fibre Wall Outlet with pre-terminated drop cable, please follow the links below: